Specialty Costumes and Reproductions
From technically challenging and whimsical costume pieces, to replica hats that complete cosplayers' recreations, to reproductions suitable for exhibition, we are pleased to create specialty headwear for our clients. We love to collaborate directly with clients and their ideas, and can offer design services in creating the perfect finishing touch for their ensemble. Projects combining imagination and innovation are some of our favorites!
'Big Top' Bergere
Custom circus inspired piece in 18th C. shape with hand built buckram and wire frame, fancy pieced silk covering, and self silk ribbon accents.
Wicked Witch Hat
Custom cosplay commission for private client, inspired by the musical 'Wicked'. Buckram and wire construction in brim, hand sculpted EVA foam foundation in crown. Vinyl covering with grosgrain bound brim edge, fully lined.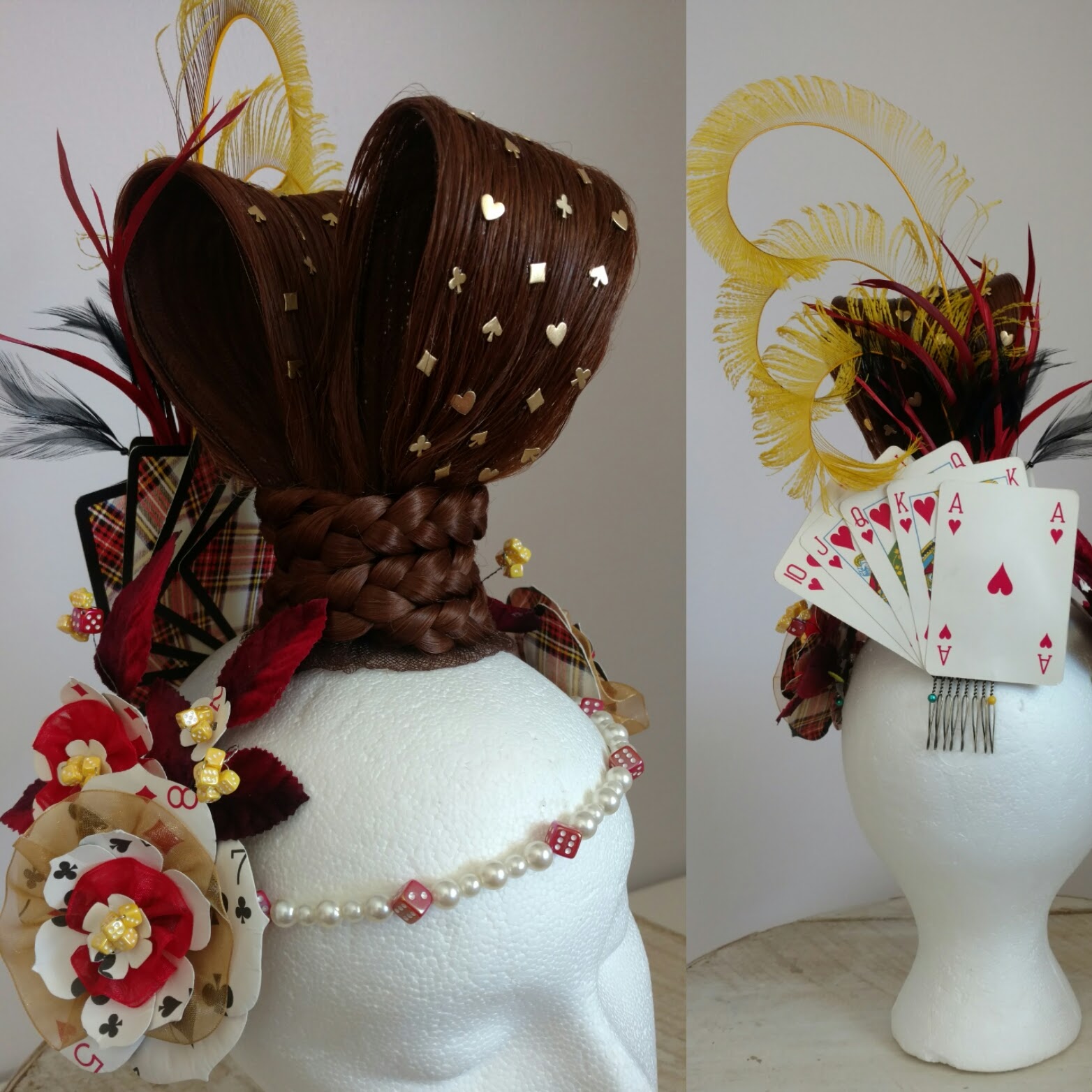 'Lady Luck' 1830s Inspired Accessories Suite
Custom multi-piece set mixing 1830s hair adornment styles and casino themed details. Double 'Apollo Knot' hairpiece with wire and millinery horsehair frame, covered in synthetic wefts with decorative brass card suit accents. Circlet of faux pearls and dice beads. Side floral accents created from playing cards, ribbon, velvet leaves, and dice beads. 'Mantilla' style comb created with playing cards and feathers.
Academic Mortarboard
Custom mortarboard in client's fabrics. Hexagonal board covered in velvet, base of jacquard outer fabric and quilted silk interior.
'Host' Cowboy Hat
Custom cosplay commission for private client, replica of character hat from 'Westworld' series. Reclaimed western weight beaver blend felt, free-form shaped crown and brim. Vintage 2-ply cord trim, fully lined, leather sweatband.
'Judith' Cavalier Hat
Custom cosplay commission for private client, replica of character hat from 'Tales of Vesperia'. Peltex and wire foundation, cotton covering and binding, trimmed in cotton sashing with 'jewel' and feathers. Fully lined.
Mid-Century Floral Hat
Reproduction of hat for the Emily Griffith Technical College (Colorado) for retrospective display at Denver Public Library. The original was created by students at the college and presented to First Lady Mamie Eisenhower. Original no longer exists to knowledge, replica created from a photo reference. Sinamay base layered with faux florals and beaded appliques, with full birdcage veil.
'Audrey' Sleep Mask
Custom commission for private client of sleep mask from 'Breakfast at Tiffany's'. Taffeta body with vintage metallic braid details, quilted cotton backing.